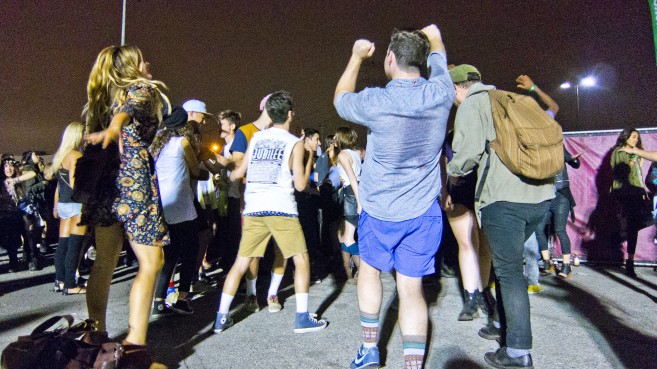 Hey white kids! You're on notice!
Your mosh pits suck and you're just simply the worst dancers.
"Holy Shit I Feel Awesome, Thanks Dad"
And sadly, you don't even realize it? The smiles are practically seran wrapped to your silly faces as you do the "Holy Shit I Feel Awesome, Thanks Dad" dance.
The sugar's oozing out of your bendy legs! Thanks for the entertainment!
Your Mosh Pits. They break out. Anywhere. With no association to the music. I SAW A MoshPit/SummerCampParty, circling in absent fury, to something that sounded like plastic folk music.
Real mosh pits match the aggression expressed in the music. Beat for beat. Literally!
Between the "in-pit" dancing, the girls, especially the one doing Capoera, the "cute" outfits, and the young kids with little sideways hats of all shapes and sizes, this felt like something I might've pulled out of the bottom of a High-Fructose Corn Syrup Cereal Box.
These poor kids are lost. At least their happy?
Nice Moves. Dork.
May I introduce you to the Mayor of Lame Party Dance Town:
Make sure to point that toe. Fully. Nailed it! BING!
"Take Me Now Jesus" Holy crap, someone's coming on!!!
"Bygosh you look fantastic! Love your outfit! Faaaaantaastic!!!" Dorks
Happy Fart!
[VIDEO] The Happy Mosh Pit: Coming Soon
RiFF RAFF, Now that's another Story! Check out his hot shit here!