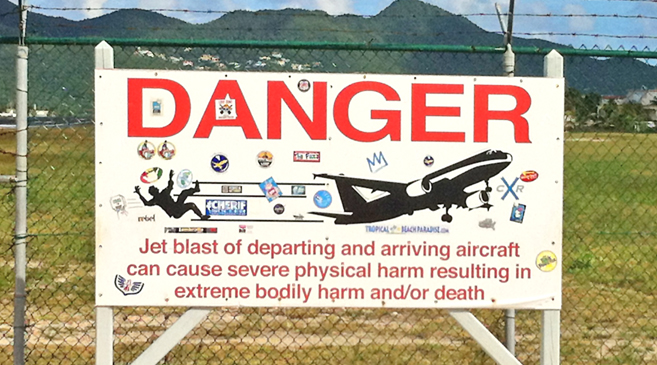 Seriously awesome videos of low flying planes over Maho beach look fake, but we swear on our pot smoking grannies it's real.
WTF? Well, sit down, little one, and let us explain – On the Dutch side of the Caribbean Island of Saint Martin is a strip of beach famous for being directly in the flight path, at the edge of the runway, for the Princess Juliana International Airport. Here, at Maho Beach, you can get and tan while American Airlines buzzes your summer glow. As we said, it's awesome. Grab some peanuts and watch. The videos below will make it all clear!
Let's start with a dramatic slo mo before we get to full speed and bikinis below.

Holy crap! (right?) But what's it look like at full speed? And, do Pilots wave? C 4 Yerself.

Great, but bikinis? Ok. How bout a 747 T.O. blowing bikinis and kids into the water? Poof.

Finally, need more? Here's a 16 min. montage for your low flying fix. AhhYerWelcome.

Oh, just look at the happy Beachgoers.