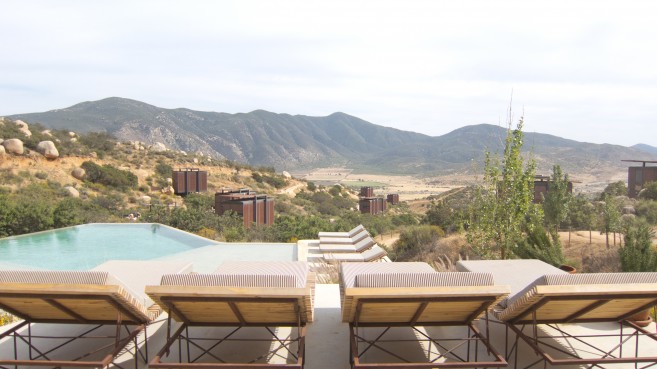 What's the first thing you think of when someone mentions Mexico? Tequila, Tacos, Tortillas, Tecate and Torrid Times, right? Sorry, but I had to. Well, from this day forward, let me suggest to you that when someone mentions a trip to Baja, you may begin to think of WINE. Yep, exactly. Wine.
The area was so beautiful, with food and wine so good, I even unfriended a few people on Facebook with the intention of protecting this find.
Just recently, I took a road trip to an area just under 2 hours south of the US/Mexican Border in San Diego, CA that changed my mind about why I'll decide to travel south next time, called the Valle De Guadalupe. The area was so beautiful, with food and wine so good, I even unfriended a few people on Facebook with the intention of protecting this find.
In this post, I'll cover a few general things to be aware of, a couple restaurants, Hotel Endemico, a few wineries and will review the road down to the VDG with the hopes of encouraging you to take the trip.
WELCOME TO THE VALLE DE GUADALUPE
With about 60 Wineries along the main Ruta Del Vino loop, you could easily spend a good few days exploring what this area has to offer. Now, a few of these wineries, like Casa De Piedra and Adobe Guadalupe, require reservations, so you're smart to plan ahead. I had the great pleasure of connecting with Karla Marquez, the General Manager of the hotel we stayed in, who was more then helpful with suggestions and reservations for the area. More to come on that later.
As  you would expect, the people are quite friendly and the local food is pretty fantastic no matter if it's a taco stand or a sit down, beach view restaurant you're spending your pesos at, but there are a couple of things to be mindful of. Not all people speak good english, know much about the wineries you'll be visiting and, most importantly, you will find not a single ATM in the area. The nearest bank machine is currently found in Ensenada, about 35 minutes from the center of the RDV, so make sure you either load up before you arrive, or drive about 5 minutes past the 3 before looping back up to the RDV. We were told that the only ATM in the area had recently been stolen, "…thank you very much", by Karla when we inquired about one. Now, the reason this is important is that while many of the stands you'll find along the road obviously only take cash, you may find yourself in a restaurant that doesn't have a good connection and will not be able to run your card. I found myself in a situation at a winery that confirmed I could use my card, upon entering, to cover the cost of a few tastings that ran into issues with their connection and ultimately could not charge my card. They were kind enough to take the pesos I had left as a tip and my promise to pay the next time I came around. I felt absolutely horrible and intend to keep my promise.
THE FOOD
So, having mentioned food, there are a couple more pieces of information I need to impart before I get to the hotel, describe the few wineries I visited and outline the road trip for you.
Aside from the taco stands and typical small restaurants you'll find scattered along the road, there are a couple amazing stops you have to make during your visit.
ENDEMICO RESTAURANT/BAR
First, whether you're staying there or not, you'll want to visit Endemico during the afternoon for a bright lunch in their gorgeously spacious restaurant/bar with a beautifully expansive view and lots of great art to take in as you stroll through the small gallery overlooking a few of their vines and the valley. They offer a dynamic menu with many items that come directly from the garden you pass as you enter the restaurant, which also serves as the reception are for their guests. They also offer a couple red wines they produce from their own vineyards, a few beers and a delicious sangria if you're in the mood. I recommend this, not only as the place to stay, but as one of the first stops on your trip because the moment you take a seat on their balcony, drink in hand, overlooking the gorgeous view of mountains, vineyards and expansive blue skies, I guarantee you'll feel your stress begin melting right away. Napa what?
FINCA ALTOZANO
Ok, second, we were lucky enough to find this restaurant just as they were ready to begin serving. Being the first to step onto the premises, we were fortunately offered a small table right in front of the kitchen which would not have happened had we arrived much later, as the restaurant most only accepts reservations and is quite booked Friday through Sunday.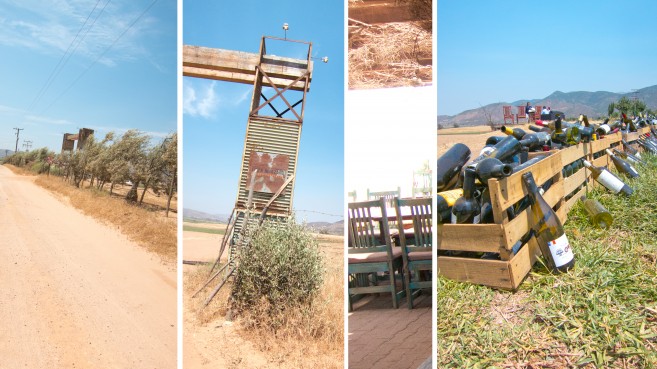 Now, finding this restaurant was as equally a fortunate happening as was arriving at the perfect time because the entrance to the property was about as discernable as a dark alley speakeasy in NY. First off, the road to the restaurant is an unpaved, rocky, dirt road that runs between the 1 and the 3, begininning at about KM4 on the north side of the RDV. The building itself looks like a nondescript, wooden shack from the road if you even notice it at all. The entrance is simply a rusted metal opening in the fence that runs the length of the road with a 1.5′x1.5′ rusted sign with Finca Altozano barely reading through the oxidation – just the way I like it. What you'll find once you've parked and walked 15 feet to it's covered patio is nothing short of yet another amazing paradise waiting to take you away from the stresses of the world. The seating consists of simple wooden benches and tables, covered by corrugated roof slats. The restaurant faces away from the road, overlooking a sublime expanse of fields, framed by the surrounding mountains, with a couple of leather couches, rocking chairs and tables set on the edge of a hill, a few feet away from the serving area for guests to sit back and take in the view. The service is extremely attentive, but no one is in a hurry. The environment is completely designed to pull you out of your daily mind, relax and focus you on the food, wine and time you take in. Here we had quite a few incredibly delicious dishes that included grilled octopus, squash blossoms, an amazing salad pulled from their garden, a couple incredible Tostadas de Ahi and asada from a goat they'd dressed just as the suggestion was made by our host. Chef Javier Plascencia himself prepped and grilled the goat as we watched. Not having known much about him before sitting at his table, I can't exaggerate our luck for having the pleasure to eat his food, in his restaurant, in this setting, by his hand. That said, everything from the fresh cucumber aguas to the salsas, plates and AguasMalas (local beer) only set us back about $70 with tip. I would have easily payed twice that without a thought. Needless to say, we were rendered immobile after the meal and simply headed straight back to our hotel to lounge poolside with a book and white wine.
Here are a couple images of the goat being dressed and placed on the grill for those of you with stronger stomachs.
ENDEMICO HOTEL
Hotel Endemico is one of the more unique hotel experiences you'll find. Placed just at the very northeast end of the RDV loop, I can't over recommend you stay here for your time in the VDG. The photographs will pretty much say everything you need to know, but while the beautiful views are pretty simple to ascertain from the images, the peaceful perfection of this place is difficult to capture in a photo. Surrounded by the mountains and valley, this hotel offers up an experience sure to stay with you for quite some time. I booked directly through the link provided above and reached out to Karla Marquez via email for information and assistance. Having never been down to the area, I had lots of questions regarding the roads, confirmation against google maps, wineries and restaurant choices. Even with an event being thrown to celebrate an artist whose work can be found throughout the property, she was more than accommodating. Hopefully, this article should manage a lot of the questions we had, but if you desire to stay at Endemico please make sure to ask if she's around and say hello. She's absolutely wonderful and full of information. She, and her entire staff, truly did everything they could to make us feel welcome and cared for.
The rooms are separate eco-lofts connected by a set of hiking paths that run the expanse of the property. The hotel offers two restaurants. One down by the check in lobby ,which is open to the public, and one saved simply for hotel guests, next to the pool which overlooks the north end of the RDV loop. The hosts are extremely attentive and do next to anything to ensure your stay is a pleasant one.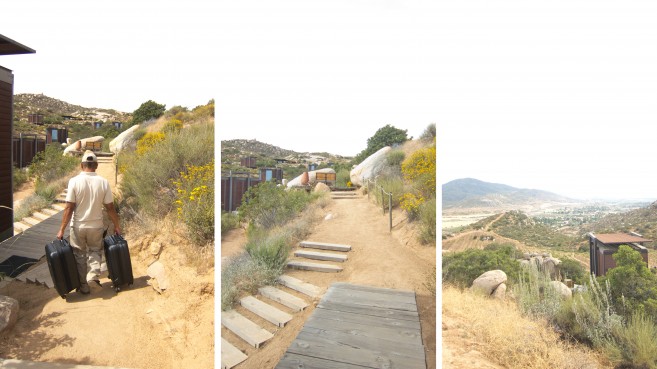 Upon arrival, you are ushered up to your room in a 4x by a hotel attendant who will show you how to get into your room, run through a few of the hotels amenities and answer any immediate questions you may have. Communications with the front desk are all managed through a small walkie talkie that sits at the side of your bed and you're armed with a small, but powerful, flashlight that you're encouraged to keep with you at all times, as the sun drops quickly and there are no outdoor lights to ruin the natural setting. That said, the pool is open until 1a, but is not heated, so any pool time after dusk is probably not likely, unless you like the cold.The hot tub, however, makes for a romantic late night rendezvous, with wine, if you're looking for a little adventure.
Finally, each room is set up with a patio and fireplace that can be lit for you as long as you call down before 10:30p. Sitting outside, next to the fire, taking in the stars with the sound of frogs, crickets and random coyote cries is a pretty amazing way to unwind after a long day of hard relaxation. Additionally, the hotel offers wifi, so, while you want to be mindful of your neighbors' silence, you can watch a movie on your ipad if you so desire.
All said and done, I can't wait to go back and wile away a few days surrounded by all that stress free beauty.
[Read On] THE WINERIES & THE ROAD TO VALLE DE GUADALUPE