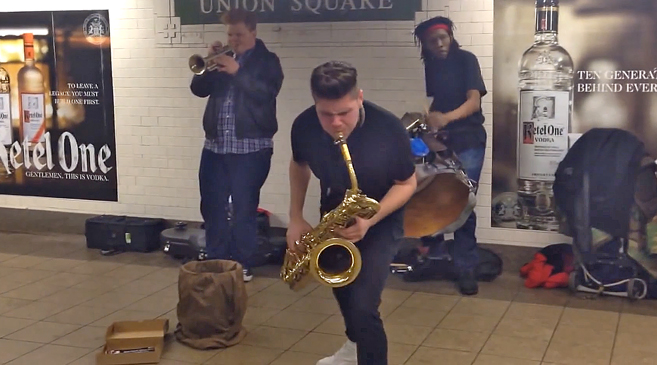 Too Many Zooz is Leo P (trumpet), Matt Doe (sax and skank) and The King of Sludge (keeping it steady). Schooled at the Manhattan School of Music (where they met), Jazz, Hip Hop, House, Ska, Klezmer, Swing… it's sexy, hot, sultry, just bad ass. Too much musical DNA. All awesome. All their own.
The first video showcases more of their range, but at only at 23k views, you're gonna wanna share the second video before it goes so big you slap yourself for not doing so sooner. Trust us. Do we ever let you down? .
At Union Sation back in January. Way to go Ketel One.
Captivating an unsuspecting crowd of subway riders at E42nd St, under Grand Central.
Connect with them here
Another amazing music find? Depeche Mode Cover Band. Cuteness you won't believe.