Whoa, Don. Let's talk about Don.
When you consider the saying "You are your own worst critic." Donald Trump is probably one of the last people that comes to mind. Quick to pass judgement, quick to insult, overcompensate. We know, we know… he's a giant, bellowing skinbag, spilling over a tiny golden toilet with a mouth for an asshole. But, you're all clearly leaning into the hate circus…
Not to worry. We're actually all drooly about it because it proves you're all nihilists at heart. You hate yourself and we love you for it. We know no matter how much lipstick you smash over that piggy face of yours, you do it because you can't stand the site of YOU in the mirror. YOU are never enough. We know your high angle, well lit, post filtered, "No Makeup Selfies" and Tensed, Shirtless Mirror Gym Instas are simply a desperate cry for acceptance.
Well, don't fret your little SparrowFace. The secret is Donald Trump feels the same way. Trust us! We've suspected this for, like, well, forever. Sadly for The Trump, there's not enough wrinkle cream or silk pajama to smooth over the person Donald goes to sleep with, and wakes up with, every…single…Godless day – himself. Even before transmogrifying into this giant nut sack in a suit, The Don has never been enough to make himself happy. Enter the Barbie Dolls, the OverGolding, The Hair…
Look, to prove this point, we sat down with Donald Trump Insult Generator to get to the heart of the matter. Like a self-serving flagellant, he submitted to our questions instantly and confirmed our most certain instincts that The Don is just like all of us – Broken; sad and crying out like a scared child who's fallen into the deep, long, dark, damp well betwixt his sagging boobs.
Now, like the impetuous child that he is, he answered quickly, but not always directly. We imagine him a large manbaby in a gold diaper, slightly distracted, gumming mushy foods and staring at his hands like a newborn on acid as he responded to our query.
A quick sit down, here's how it went.
Us: Donald Trump Insult Generator, what do you think of Donald Trump?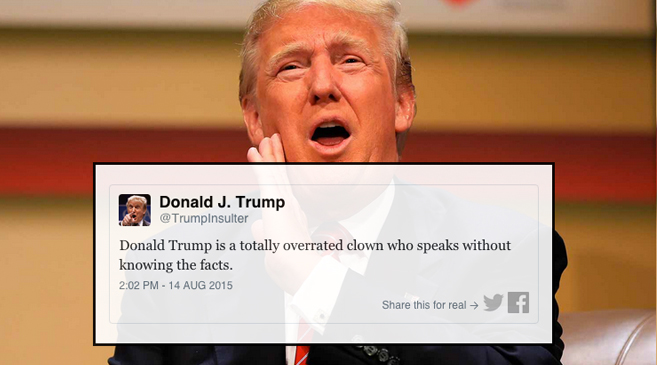 Us: A serious accusation considering America seems to be taking Trump seriously.


Us: So you're saying you're just a fat meat puppet in a suit?


Us: Ok, but who does Donald "talk" for?


Us: So you're saying there's ANOTHER Donald Trump? An Alter Ego, perhaps? Like a Clown performing for the fat, rich socialites sitting atop this great, diverse nation, yes?


Us: Yaasss…Dummy Donald Trump, indeed. Hmmmmm, but who IS the real Donald?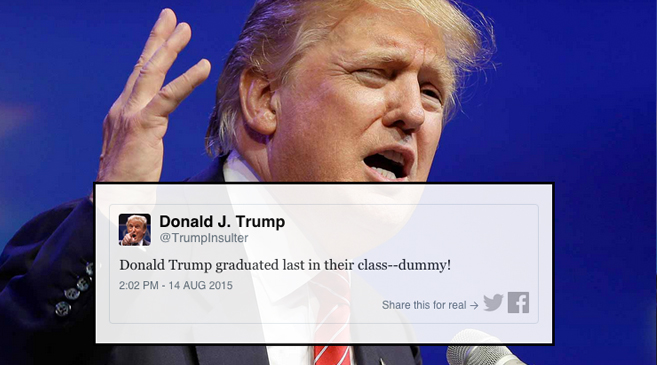 Us: Really?!? So would you say it's fair to consider you "Low Class"?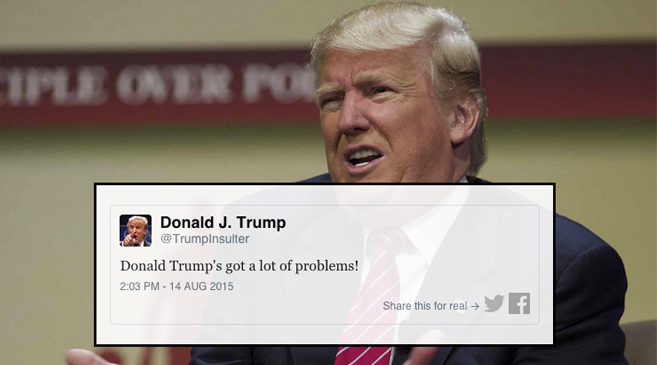 Us: No surprise here, but why don't you give us an example?


Us: Ok, I think we're covered off on the "dummy". In your past. "you've called women you don't like fat pigs, dogs, slobs and disgusting animals. You once told a contestant on Celebrity Apprentice that it would be a pretty picture to see her on her knees." Troubled for sure. Would you like to take this chance to once again sidestep the question about being a significant part of the war on women?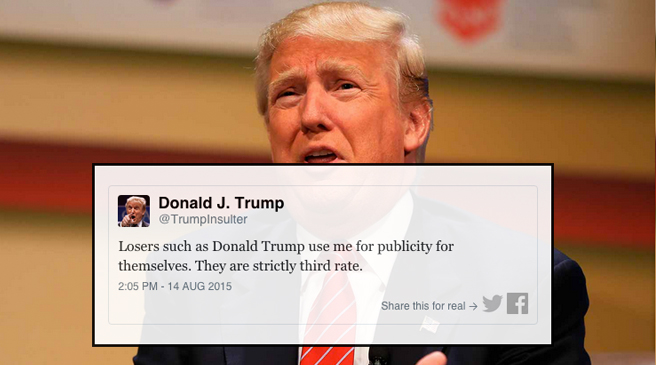 Us: Very meta. So your answer is "Yes."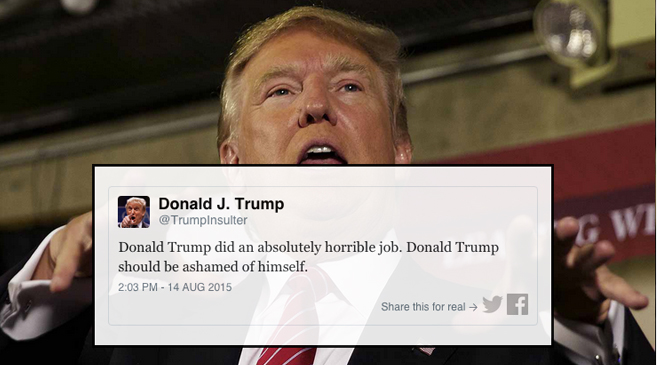 Us: So, you're saying you've let yourself down?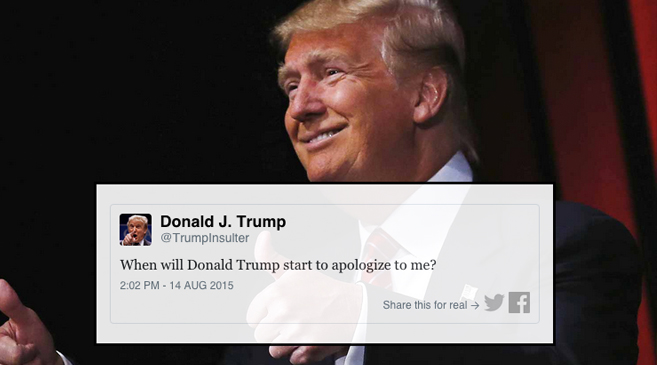 Us: We don't know. Are YOU ready to apologize to yourSELF?


Us: Who doesn't? Does this satisfy your, till now, secret sense of low self esteem?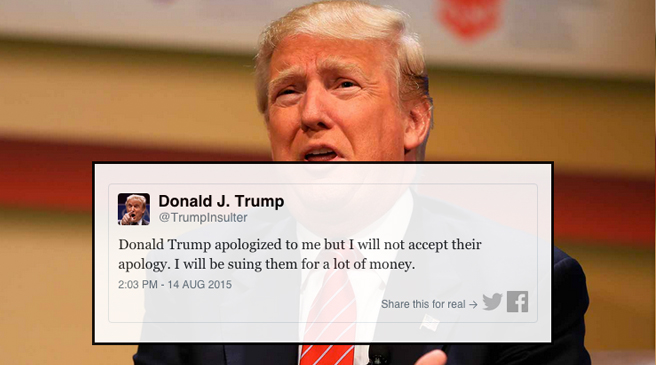 Us: Wait! What?! You've already apologized to yourself, buuuut you're preparing to sue yourself for lots of money? Now you're starting to sound crazy. Even for yourself.


Us: OK, it's sounding like it might be time for your nappy nap?


Us: Alright, Don. Well, thanks for making the time…oh just where has the time gone?


Us: …alright, bud. We hope all three of you you's have a good night.


Us: Well, at least on this we agree.
-End Interview.
If you'd like to speak to Donald Trump Insult Generator to get the scoop on anyone at all, here you go. Thanks for reading.