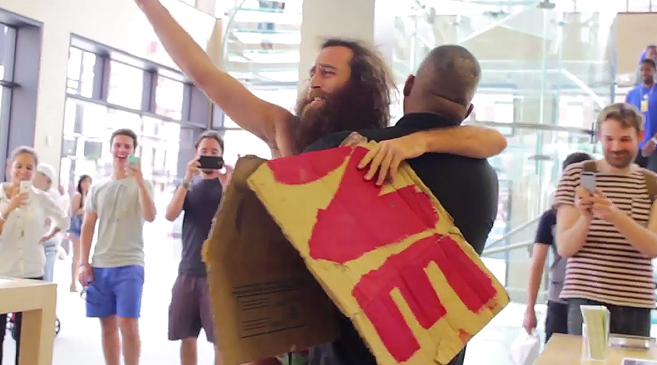 Most recently, captured in a NY Apple store, spreading his message of "Love", Matthew Silver has a clear plan to break you from your program. And, while anemul mostly hates hippies and corny "love" rants, we think this artist has balls. Here are a few videos of Matthew Silver at work; 4 Perfomances, 1 Featurette and 2 Interviews, below.
7.20.14 : [PERFORMANCE] NY Apple Store

6.25.14 : [PERFORMANCE] Inspiring Advice From a Mentally Insane Person

5.21.14 : [PERFORMANCE] Love is the Answer

11.23.13 : [PERFORMANCE] Epic Crazy Bearded Guy in NYC Union Square

12/10/12 : [FEATURETTE] The Great Performer – The Back of the Busk

6.10.14 : [INTERVIEW] LGBT Transition Radio TV Interview with Matthew Silver

7.7.13 : [INTERVIEW] Silver and Valerie Kuehne @ Brooklyn International Performance Art Festival.