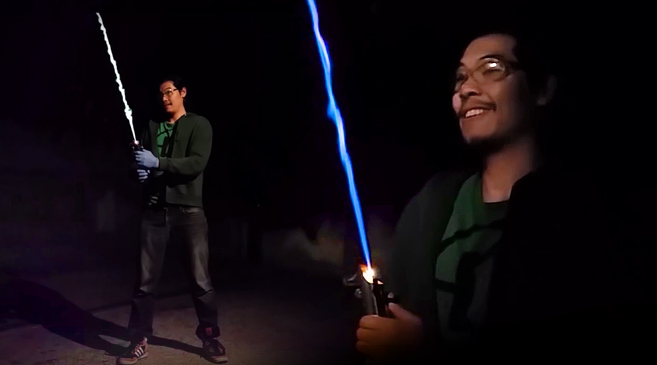 A REAL lightsaber? Not possible. Wrong. It seems maker Alan Phan can do anything!
Following up his build of a real God Hammer (THOR), Alan decided to take on something much more useable and totally easier – BUILD A REAL LIGHTSABER. We approve. Now, while technically a flame thrower, we think you'll agree, the result is pretty awesome. Yes, you're not likely going to slice the hand off some sniveling man-child for holding a loud public conversation on his cell, taking an annoying selfie or periscoping his lunch, BUT the Jar Jar destruction at the end of the video pretty much confirms you could do some serious damage with this elegant weapon.
Using a replica of Luke's First Lightsaber, Alan Phan encases in it a nichrome ignition and syringe valve to create a highly focused stream of butane ignited methanol that really looks like an angry version of the Jedi weapon, with all the fury of the new Crossguard Lightsaber.
To demonstrate the weapon's effectiveness, Alan kills a few Stormtrooper balloons and finishes us off with a bit of the 'ol Jar Jar destruction mentioned above.
It's clear the force is strong with this one. Alan, we'll take 5 of these bad boys, please. Enjoy