"If you ain't cheatin', you ain't tryin'." Way to go Amerka! The lesson; win at all costs. Reputations are pliable and "accountability" is…hey did you hear Bruce Jenner is transitioning to a woman?!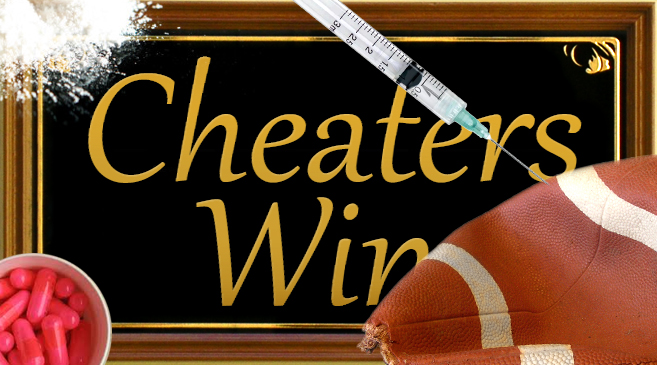 Sports Teams Cheat. Athletes Cheat. So, in honor of Deflate-gate, PEDs, Points Shaving, Age Shifting and Mental Disability Faking here are 10 great cheats that led our favorite teams and athletes to victory!!! Allegedly.
1. NoiseGate – Atlanta Falcons allegedly pipe in crowd noise because all that Falcon Sucking has put their fans to zzzzzzzzzzleep.
2. DeflateGate – Tom Brady allegedly prefers holding Belichecks deflated balls over Pete Carrolls more taut pigskin.
3. SprayGate – Ray Lewis allegedly murdered his tricep tear recovery time by sticking holographic stickers on his right elbow, sleeping in front of a beam-ray light, drinking negatively charged water and spraying deer-antler velvet extract under his tongue. Oh, the spray included an NFL banned substance…but it was antler spray.
4. BountyGate – New Orleans Saints allegedly paid cash bounties for knocking opponents out of games the way Ray Rice handles his fiancee. "You just got knocked the fuck out!"
5. DuhFakeGate – In a shamefully dumb move Spain allegedly stacked its 2000 Paralympic Basketball, Track, Tennis and Swimming teams with players that weren't in any way disabled.
6. KneeCapGate – Tanya Harding and Shane Stant, the original Britney and Kevin, allegedly kneecap Nancy Kerrigan the day before the 1994 US Figure Skating Championships. Original News Footage Here.
7. HitchHikeGate – Back when the world was in black and white, Fred Lorz, allegedly hitched an 11 mile car ride during the 1904 Olympic marathon to win first place. He claimed it was a joke. We claim it sounds awesome.
8. AgeGate – Bronx Little League team allegedly use 14 year old pitcher, Danny Almonte in the 2001 Little League World Series with an age cutoff of 12.
9. DrugGate – This isn't really cheating, but good to point out, MMA fighters apparently like drugs. Jon Jones, Nick Diaz, Anderson Silva are the most recent poster children for Drugs-R-Fun. Allegedly.
10. GodGate – In the 1986 World Cup Quarter Final match between England and Argentina, Diego Maradona uses his hand to knock in a goal on their way to win the tournament. Cocaine makes people do crazy shit. Allegedly.
Did we miss any?