It's novel. I give them credit for placing it in the middle of "Nowhere". Smart area, creative entry, nice attempt.
What's actually missing is attention to detail.
That said, I don't know that the crowd realizes they're not getting real Milk & Honey level mixology. I'd be surprised if they even knew what Milk & Honey was.
Perhaps, for that, the area is genius. I just can't help but think that if they even thought to pay attention to the authenticity of the drinks, they'd realize the potential of everything else they're doing right.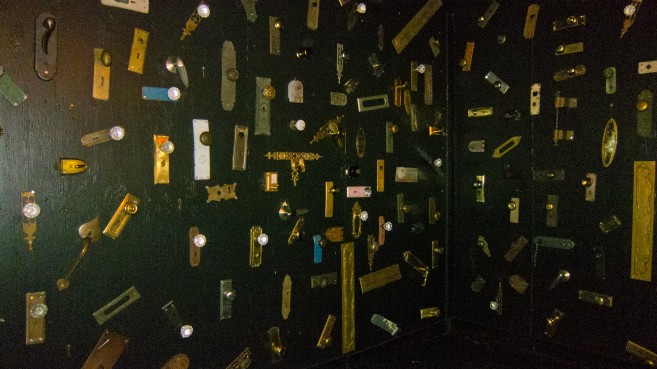 For those unfamiliar with the SpeakEasy, the novelty of the doorknobs entry might be enough to please. It is a bit Alice In Wonderland. I did love that. It took me a few moments, a bit of laughing and a few pulls before I figured it out.
A good looking, young staff, they mean well, but even the service feels a little disorganized. I get the sense they're still working things out . I can tell the bartenders care about their drinks. They simply haven't been taught better.
If I'm not immediately impressed by a bar's cocktails, I order a Penicillin to gauge the quality of the bartenders. In this case, they knew what a Penicillin was. Good sign. However, before tasting I noticed the weren't using Famous Grouse. When I asked, the bartender showed me the bottle, saying, "It's the only IS-Lay we have". Not good. While the appropriate pronunciation is Eye-La, Eye-Lay is acceptable, but never IS-Lay. A bartender should know this. That said, the drink was flat, lacking any dimension. While the essence was there, my instinct that these guys have simply not been taught well was confirmed.
A smart idea, a beautiful space and a staff who wants to please, it's worth going if you're looking for a theme worth your time in that area. And, while their drinks are mostly flat, they're not bad and they have a pretty great punch. I definitely think it's worth checking out.
Lock and Key, you're so close to being great, I want you to be.
With the right refinements you could be Rivera, Roger Room, or Descarga level if you even feel the need to make that stretch.
The music after 10p is great. Try it out before it gets mobbed.
Enjoy.
Live Douche Free – More DoucheFree Reviews.