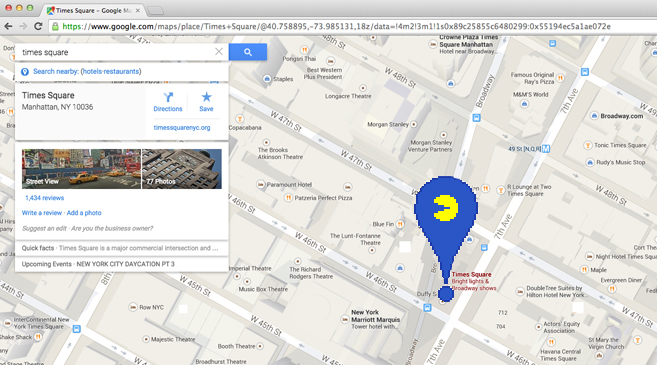 Yes, it's true! Google Maps Pac-Man is real. It's an Easter Egg, Pac-Man, Pixels Omelette for your Tuesday Google Mapping pleasure. Just in time for Easter, and Pixels, Google Maps has created an Easter egg that allows you to Pac-Man your favorite cities. Both on Desktop and Mobile, you can search for locations to uncover Pac-Man Map Flags that allow you to click and play…OR you could just use the links below.
Here are directions and hints to where you can find Pac-Man. You can pretty much guess you'll find Pac-Man ready to eat major cities, but for your personal discovery giggles, hurry up, search for Times Square and zoom in to find a map flag like this one.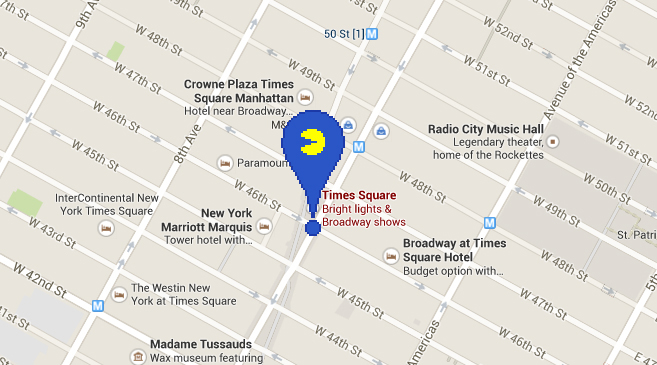 Now that you've gotten that out of your system here are links to
Culver City,California
Brooklyn, New York
Taj Mahal
Smithsonian National Museum of Natural History
Just select the Pac-Man Icon in the bottom left, rack up the points and share your high-score. Enjoy!