Our 4th FYF Fest, this time at the L.A. Memorial Sports Arena and Exposition Park, we shelled out for VIP to see HEALTH, Purity Ring, Morrissey and Savages. With 2 full days under the beautiful L.A. sun, it's clear that FYF Fest aptly knows how to kick ass!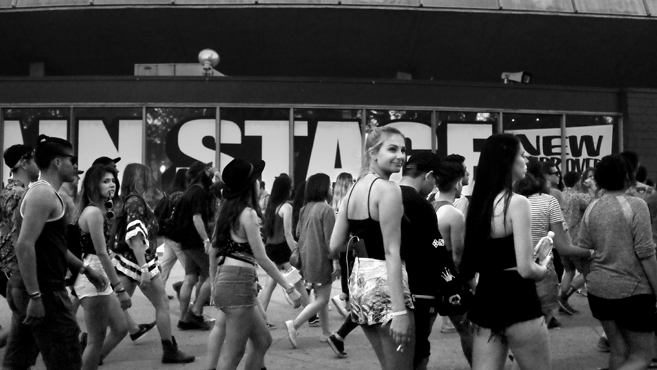 Our first FYF since moved from L.A.'s Historic Park, we wondered how the layout would go down. While a bit of a trek between stages, the location use and scheduling made for a well orchestrated day, with the last performance at the Lawn Stage near the Metro Station exit, drawing the crowd back out of the grounds at the end of each night. The VIP Section was well located, bathroom options were top notch, making use of the Arena at center stage, and crowd management was hands down some of the best we've ever seen. To top it off the Metro Train – beautifully choreographed for painless access to DTLA and Culver. Well done, FYF.
Surprised and sad to see local native, Frank Ocean, drop out of the festival, and very Anti-Kanye, we were at least happy to see Mr. Kim Kardashian pull all the good little robots away from the Trees and Lawn Stage where we caught Cold Cave and set up to see Purity Ring Saturday night. With Fuji's at hand, here's what we caught.
:: Links to Full Galleries Below ::
The crowd : we love us some festival goers. The fashion, the passion, the dance moves…all of it. Amongst the efforted/afforded "I woke up like this" looks, the hat wearing, price tag slovenly, head bobbing, fist throwing, sweaty, girating fans, we were lucky to catch the bold and the beautiful Hannibal Buress, the snippy, turtlenecky Marten Weiner and the brash, finger poppin' Ashley Nell Tipton (we're pretty sure it was her – we'll fantasize until told otherwise) taking in all that FYF Fest had to offer.
Morrissey obviously packed it in with the most devout loyalists.


But, everywhere, fans waited patiently.


Fashion abound.


The bottoms…


the tops…


… and Hannibal just laughed and laughed because, while Bill Cosby might very well be a rapist, he's definitely a social media retard, Dana. You like that, Hannibal? We did too.


JUST LOOK AT THAT FACE! But we digress…
While HEALTH was our flame, Savages, Death Grips, RTJ and Purity Ring ruled the stage. And, well, yes, Morrissey was there too.
HEALTH :: Pure Los Angeles Heaven make beautiful "Noise".


Savages channel Siouxsie, Joy Division and PIL in a searing, hot, package, donning black.


Death Grips : Smash Up Hip Hop, Industrial and Noise = Kids Smash Up heads.


Run The Jewels : NY Hip Hop, Critical Acclaim and L.A. Love with Zach De La Rocha and Travis Barker in tow. Lie, Cheat, Steal, Kill, Win. Everybody's doin' it! Sick sick sick!


Purity Ring. We're absolutely positive these two were created in a dream.


And, Morrissey, well, he basically IS a dream. Don't cry, sweet Morri. We're right here.

All in all, a great weekend of music, low-crotch fanciness and all the other stuff that comes with it. The moral of the story = Don't ever miss FYF Fest!
For more galleries and our time with Morrissey:
The Crowd : Coming Soon
Death Grips : Coming Soon
FKA Twigs : Coming Soon
HEALTH : Coming Soon
My Time with Morrissey : Coming Soon
Purity Ring : Coming Soon
Run The Jewels : Coming Soon
Savages : Coming Soon
Goldroom & Flying Lotus : Coming Soon