The latest jolt of life to our fair DTLA comes in the form of a blipping oasis on 4th and Alameda. While many of us dread the coming Whole Foods Market, 82 is a welcome shot mid heart of the Arts District revival. This 8bit, Pinball awesomeness brought to DTLA by Scott Davids and Noah Sutcliffe, sits mid corner come canvas, surrounded by some of the biggest, most protected street art walls in DTLA. Walking this area even just a few years back was still a questionable venture worth the thrill of discovering a new ROA, Ron English, How and Nosm, Kim West…too many artists to mention. We're just waiting for a giant Hanksy. Now, with 82 the DTLA swell continues as pulls like this bring more people downtown to play and live.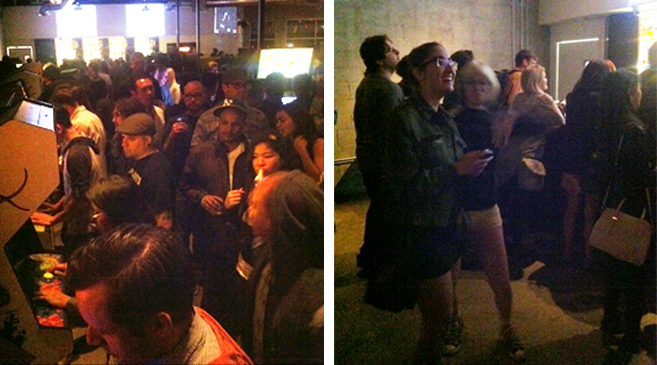 Now, the big deal with this bar, apart from the fact its a barcade, is that it represents the type of development beginning to extend DTLA life East, connecting the center of the city to the flourishing Arts District and the LA River where spots like Villian's Tavern, Eat Drink Americano, and everything towards Bestia, Little Bear and too much excellence to mention in this piece exists. Angel City Brewery, also a great spot to hit, was probably the first large representation of this development until now.
The space is well laid out, separating two distinct areas by an open air lounge directly in front of the entrance. To your left you'll find the majority of Arcade Cabinets and Cockpits, the bar and DJ. Above the bar live gameplay is featured so you can watch people get schooled at Street Fighter while you wait for your drinks. To the right, you'll find pinball machines and a couple Classic Cointronic style games.
The atmosphere is great. Its obvious everyone's there to have fun. The bar itself is a bit hectic, but the drinks are worth the money. The "Craft Cocktails", while a little sweet, are easy drinking and complemented by good selection of draft beers and bottles. The DJ, surrounded by a dancing crowd, plays all night and the cheers you hear, as friends pummel each other and turn over high scores, invigorates the atmosphere.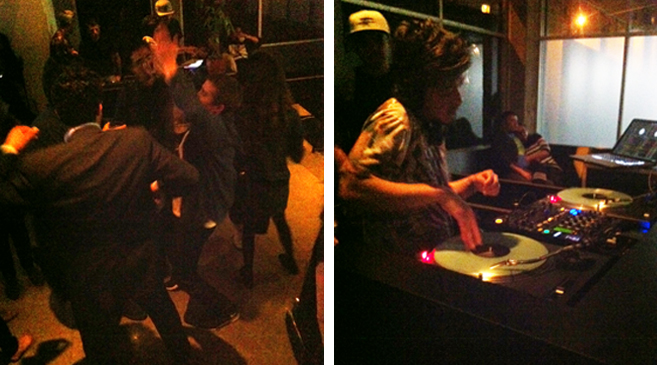 A few simple rules meant to keep the place fun, flowing and protected are challenge players by putting your quarter on the screen, be mindful of those waiting to play and don't put your drinks on the machines.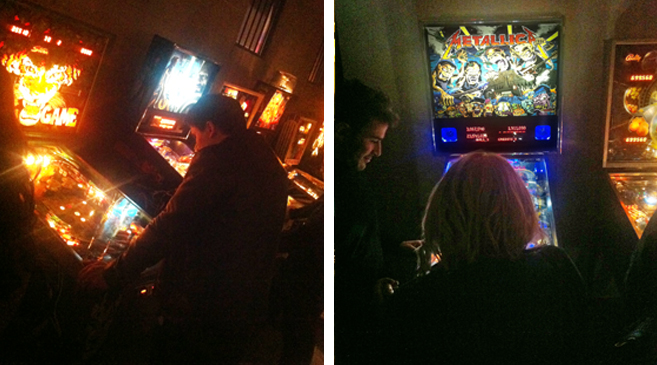 Competitions are planned and a weekly pinball league is in the works.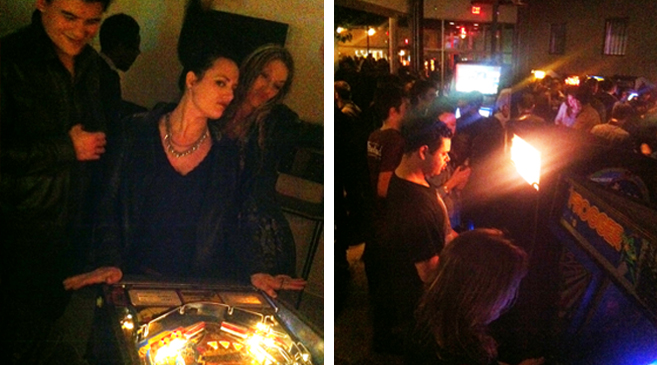 A large group of games you'll find at 82 are listed here, but highlights include Addams Family Pinball, BurgerTime, Dragon's Lair, Gauntlet, Tempest, Tron and Riply's Pinball. There are more games than listed, but the descriptions provided should be enough to get you excited to spend a few quarter rolls.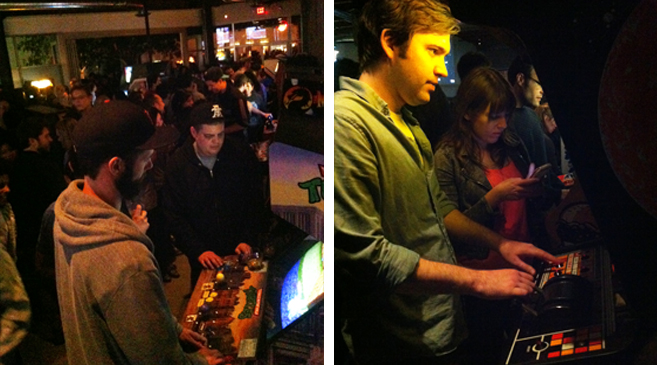 The bar opens at 2p on the weekend and the area makes for a great afternoon, so we recommend making an entire day of it. We're pretty sure that if you've yet to consider DTLA as a great place to live, this may help push you over the edge. Enjoy.