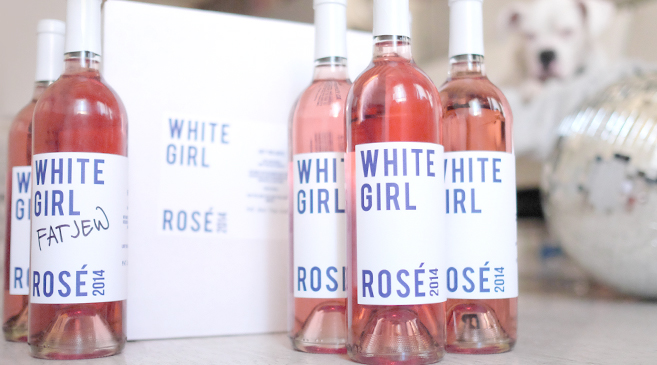 It's 2015 and California is experiencing the type of humidity that has Angelinos fainting in the streets! Coiffures afrizz and armpits stained by the organic, range free, cold-pressed sweat of these El Niño oppressed cosmopolites, these melty boys and girls cry out for salvation! But, not just any salvation. The type of sweet, chilled, pink salvation only Rosé can bring! And in this extreme time of need, not just any Rosé will do. Nay! This is a job for White Girl Rosé!
But, you can't find any. We know. Ironic, huh? While it seems there's just not enough to go around, we got our sweaty mitts on a case of this stuff, so don't fret your schvitzy punim. We're gonna get White Girl Wasted just for you.
Now before we start, you need to know that we, at anemul, aren't just professionals at bad-assery. We're also just plain professional. When we do something, we do it right. So, when the wine's creator, The Fat Jew, advises this sweet nectar be consumed directly from the bottle, through a straw, we turn it up to ensure we're maximizing the experience. That in mind, we've not only pulled out our stripiest straws and chilled our WGR to a perfect 47°, we've schlepped our beautiful pink box of drink to Cinespia's presentation of Apocalypse Now, in this sweltering dankness, for the type of contrast that will heighten our palette, amidst the famous dead and Hollywoods most beautifulest socialites to gauge their reactions and bring you… the total review. So, let's.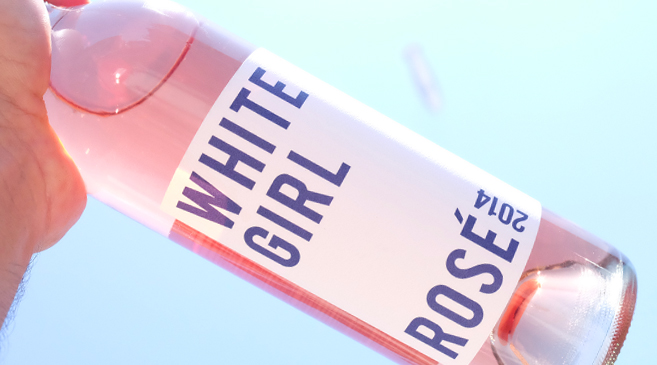 Pre Taste 'n Share, we hold our gorgeously chilled Rosé skyward to take in the color and appreciate the beauty of the bottle. As the sun joyfully dances through the Rosé's Magically Unicorn Pink Hue, you can feel the The Fat Jew's seductive come hither welcome and generosity via his sophisticated choice of a textured white label stock that "touches you back" and subtly hints at the type of sensual nuance awaiting you just beyond the white capped cork that preserves the sweet siren sleeping within. The measured typography assures you this white girl's free of any adornment meant to mask a lazy vintner's hand and simply says, "Hello. I'm here. Let's get to it." So, yes, let's do.
Already met by joyful "OMG, White Girl!" gasps, envious eyes and admiration at the site of our treasure, the pop of the cork literally turns heads and draws a line of hopeful eyes as we immediately realize how this sweet White Girl intends to bring the world together…one…bottle…at…a…time. Clearly time to share the wine, we asked 3 Quick "Q"s – 1. What's ur name. Second, R U a White Girl? And,C, What do you think?
Now, we walked around and poured WG down the throats of approximately 30ish people who all generally agree, this Vino's very drinkable. Pretty much, like us, we're impressed The Fat Jew didn't simply go slutty sweet on us. One couple, Adam and Jen, confirm, noting White girl wasn't as sweet as the Sophia Coppola Rosé they were drinking. Clearly a much more sophisticated crew – we took our first sips alongside our LeBron Mix Review.

With our fave Tasting Notes here, Aaron B, who said he's NOT a White Girl, but listens to Taylor Swift (who doesn't!?) pretty much summed it up with these sophisticated tasting notes :
Hmmm……Lisa Frank, Scrunchies, Horsies, Boyfriend Jeans!
All in all, we're impressed the Fat Jew's layered in longevity over creating some Basic fruit bomb. You're drinking Rosé, but in this setting, surrounded by all these people, drunk in the warm glow of The Fat Jew's pink embrace, as we watch Marty Sheen hunt Marly Brando amidst the sweaty jungles of Cambodia, we can't help but imagine that if we'd dropped bottles of White Girl Rosé, instead of bombs, across Vietnam, the worst we'd fear in life would be White Girl Problems. Bravo, Fat Jew. Bravo.

If you're in LA and you totes need a bottle now, throw your hair in a scrunchy and run your sweet ass over to Simmon's Market on Rose (how appropriate), in Venice. They're the smart ones supplying you with some of the only cases you can find in LA. Mark and Josh say, "They're going fast. People are coming in and they're flying out the door." So don't wait or you might find yourself crying your salty tears into some other, much less prestigious Rosé. Tell em anemul sent you and you might get a high-five. These guys definitely took care of us.
Thanks for reading. We hope you get Fat Jew Crunk and wish you White Girl dreams.
See what people said here